Anstey Homes is primarily based in Northern NSW and S.E. Queensland, although examples of our homes can be found right along Australia's Eastern Seaboard.
The Team at Anstey Homes continue to nurture the Passion and Drive for Design and Craftsmanship that, combined with a vast depth of Technical knowledge and experience, has propelled the company's reputation for building excellence over the last 40 years.
With a passion for simplicity and elegance, our award-winning design team are dedicated to crafting unique homes that reflect your style and personality and enhance your lifestyle.
Designs that are innovative, yet practical are our signature and finding the perfect living spaces for you, and your family is our passion.
With many Many Awards for our innovative design, outstanding workmanship and project excellence over 40 years, we are proud of our heritage but we are, as always, focused on the future.
Friendly, personalised service
In these difficult times we can be incredibly flexible to meet the needs of our clients and offer the highest level of personalised service to each and every one. We make it easy, and stress-free to design and build a stunning new home that's unique to your lifestyle and budget.
Over four decades of experience
With an extensive background in Design and Building, Anstey Homes has for over Forty years created beautiful, functional and long lasting homes. Take a look at some of our designs from the past.
An evolution of great design, from the past
RIGHT >
The 'TAHITI', designed and constructed by hand by the Anstey Team in 1979
This Founding Design exhibits the 'DNA' that Anstey Homes became. It was constructed almost entirely from second hand and recycled materials in the hinterland behind Byron Bay.
Most of 'Our' Construction details (Post, Beam, Verandahs, Door and Window Architraves etc) have become standard building practice today .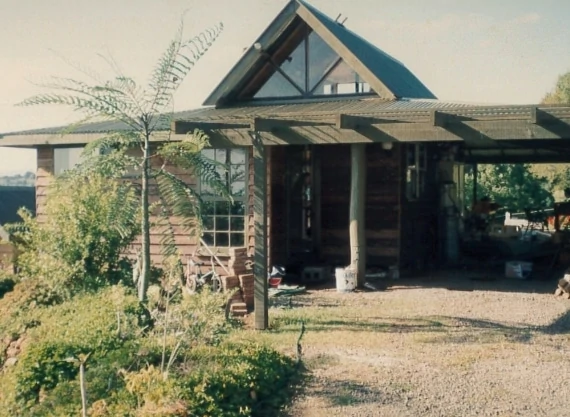 <  LEFT
The 'BYRON', designed and constructed by  Anstey Homes in 1994 as one of a group of four colorbond cladd homes in Port Stephens (near Newcastle NSW)  This home won a prestigeous Housing Award  from the HIA as 'Best Home' at the 1995 awards ceremony held in Sydney.
Other examples of this design had been built previously and had featured in House and Garden, as well as  Home Beautiful. The original 'BYRON' won an Award from the MBA Master Builders Awards for its innovative Design and Build Quality